Pakistani Cuisine: culture and history, regional cuisines, popular dishes, At festivals, Traditional Pakistani cuisine, most eaten food in Pakistan, meal patterns. Biryani, Palau, and Nihari are all Pakistani delicacies that we are all familiar with. Pakistani cuisine is a diverse, varied, and delectable array of meals. Every meal in Pakistan demonstrates the nation's enthusiasm for tasty food, from the spiciness of Qurma to the sweetness of Kheer. The specifics of this intriguing cuisine, however, have yet to be discovered. Continue reading!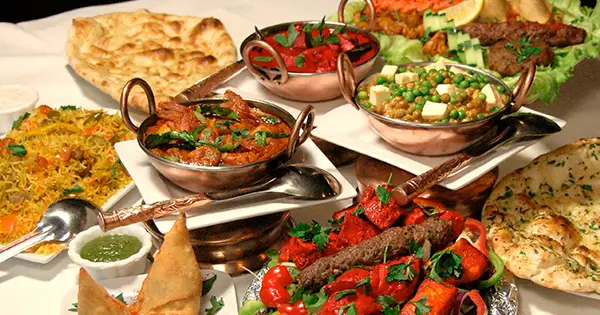 Culture and History
Pakistani cuisine has been heavily impacted by numerous locales over the centuries. The first influence can be traced back to the Aryans and the Indus Valley Civilization, when people farmed spices like cardamom. The presence of Islam in the region, on the other hand, had a significant impact on Pakistani cuisine.
As a Muslim-majority country, the cuisine adheres to religious dietary restrictions (Halal). As a result, you won't find any forbidden (Haraam) components like pork or alcohol. Aside from that, the flavors of Pakistani food may be traced all the way back to the Mughal Empire. All of the trademark spiciness and savory flavors date back to that period.
Regional Cuisines
Pakistani cuisine, like that of other nations, has regional cuisines due to the presence of four provinces. Let's have a look at each of the regional cuisines!
Sindh
Sindhi cuisine is created by the people of Sindh province. They usually eat spicy chicken meals. The delicious Sindhi Biryani is a well-known meal from Sindhi cuisine. Local food has a lot of international exposure in major centers like Karachi. People usually eat at international cuisine restaurants or fast-food businesses.
Punjab
Punjabi cuisine is diversified due to its status as an agricultural center. However, there is a preference for meat-based cuisine like Nihari. Murgh Cholay, a popular dish in which chickpeas and chicken are cooked in butter, is another popular dish.
Baluchistan
Balochi cuisine offers a diverse range of delicacies. Traditional cooking methods such as Dampukht and Sajji are used to create meals.
KPK
In contrast with the rest of Pakistani cuisine, KPK cuisine emphasizes lamb meat and uses minimal spices. Kabuli Palau and Chapli Kebab are also popular dishes.
Popular Dishes
Shabdeg: Shabdeg is a Persian word that loosely translates to "night boiler." Mutton, beets, and turnips are cooked overnight in a copper pot to make a rich stew.
Aloo Ghosht: "Potatoes and meat" is what Aloo Ghosht means. In a spicy tomato-based stew with ginger, garlic, and cinnamon, aloo (potatoes) and Ghosht (mutton or lamb) are cooked. It's usually eaten with rice or paratha while still hot.
Peshawari Kebab/Chapli Kebab: means "of Peshawar." This kebab is comprised of ground beef and spices and is a Peshawar specialty. It's a popular street food and supper side dish with garnishes like fresh parsley, chopped tomatoes, and onions.
Sai Bhaji: "Green veggies" is what Sai Bhaji means. This vegan dish from Sindh combines seasonal greens like spinach, gongura, and fenugreek leaves with a spicy lentil broth. It's a filling and healthful main dish served over rice or with roti.
Nihari: Nahar is the Arabic word for day. This spicy stew is produced by slow-braising lamb or beef overnight and served as a hearty brunch dish after morning prayers. With ginger, pepper, coriander powder, garam masala (an Indian spice mix), and lemon, bone-in meat cuts are utilized. The slow braising produces tender, fall-off-the-bone beef as well as a spicy, extremely aromatic stew.
Haleem: Meat and lentil stew with coriander, fresh ginger, chilies, and fried onions served with lemon and fried onions.
At Festivals
It is not uncommon for pulao to be the star of a feast during festive occasions. It is a one-pot meal made of spiced rice, vegetables such as carrots and peas, and meat such as mutton or chicken, and served hot with raitha (yogurt sauce).
On festive occasions, meat, vegetables, and rice are prepared into biryani. Biryani is different from pulao in that its components are cooked separately to a semi-done state. A pot is layered with par-boiled rice, steamed vegetables, and sauteed meat, and then steamed until all the ingredients are cooked. There is a topping of roasted nuts (cashews, almond slivers), dried fruits (raisins, apricots, etc) and fried onions.
Seviyaan (pistachio and saffron vermicelli pudding), falooda (a layered milkshake made with ice cream, vermicelli, chia seeds, jelly, and rose water), kheer (rice pudding), and gulab jamun are all popular treats (fried dough in syrup).
Traditional Pakistani Cuisine
There are also staples such as rice, wheat-based flatbreads (roti, chappti, paratha, puri), lentils (dal), vegetables (sabzi), yogurt, and fruits (served with a dash of salt). Breakfast, lunch, and dinner are the three main meals consumed by the average Pakistani. Halva Puri is a favorite breakfast item.
Most Eaten Food in Pakistan
Chicken tikka is one of Pakistan's most popular dishes, both in terms of taste and nutritional value—that is, if it isn't served with "naan." It's a large piece of chicken that's been coated in traditional spices and cooked to perfection.
Meal Patterns
Pakistani cuisine typically consists of three meals: breakfast, lunch, and dinner. Eggs, bread, paratha, fruits, and tea make up a typical Pakistani breakfast. On Sundays, special meals such as Halwa Puri, Cholay, and Paye are served.
People typically eat foods such as rice and curries for lunch and dinner. Lentils are a popular lunch option, especially when served with yoghurt, salad, and pickles. Dinnertime is when the meals that require more time and preparation are served. Traditional desserts such as Kheer, Halwa, and Sweets are served after that. Fresh fruits are occasionally consumed after dinner.
Teatime is maybe the daunting unofficial meal of the day. The aroma of tea brewing rises from every single home just before dusk. People also consume snacks purchased from food booths or prepared at home, in addition to tea. Samosa, Kachori, Sandwiches, Fries, Biscuits, Cakes, and Rusk are examples of fried or baked foods.
This schedule changes during the holy month of Ramadan, when two meals, Sehari and Iftari, are served. Additionally, it is customary to eat meals in the vicinity of a Dastarkhan (cloth). To savour their meals, folks sit cross-legged on Takhts (raised platforms) in eateries.
Read also: Asian Cuisine Differences; Asian Cuisine History; Asian gastronomy, Asian Cuisine
External resource: lacademie
Esta entrada también está disponible en:
Deutsch (German)
Español (Spanish)
Suomi (Finnish)
Français (French)
Nederlands (Dutch)
English
Português (Portuguese (Portugal))
Svenska (Swedish)