Chinese food is high in protein. Chinese food has spread throughout the world and has been gaining a place in the heart of each diner. Analyzing Chinese food based on its nutrients can be a complex task since the ingredients change depending on the dish to be prepared. Thus, many times, a dish of traditional Chinese food can contain much more protein than another.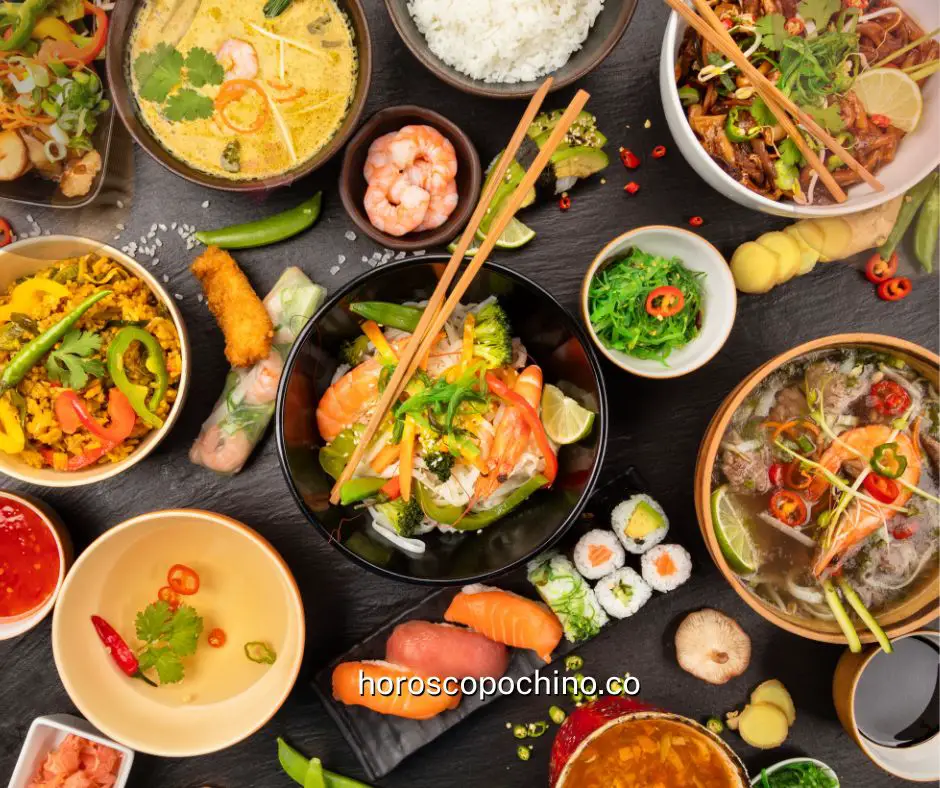 Even so, today we will analyze in a general way how many positive aspects Chinese food brings to health and how proteins are present thanks to each ingredient.
Things You Should Know
Eastern food favors vegetables and lean proteins. This represents a great advantage for health since they promote a perfect diet for a healthy lifestyle where they can improve their physique and the functioning of their body. The proportions of each food are carefully calculated so that each dish is tailored to whoever is going to enjoy it.
When they say "Chinese Food" Automatically comes to mind a lot of ingredients being cooked in a wok with a lot of fire. This may or may not be the case, but it is time to change this mental image completely.
Chinese food comes in many forms. There is the 100% vegetarian, the seafood, the confectionery, and also the traditional food full of proteins that is the most popular. Condiments and sauces may be present and are considered distinctive features. Ginger, soy sauce, and other sauces and dressings with digestive properties are very beneficial for the body as well as being rich in sodium.
As stated at the beginning, Chinese food has many dishes and some are healthier than others. Originally, it is nutritious and balanced in terms of its ingredients, so it is easy to find various dishes in restaurants that may or may not play with the recipes.
The Richness of Proteins
Protein is used by the body for a lot of internal processes. The creation of vital substances, defenses, and even the production of blood depends on a good diet that provides all the necessary vitamins and nutrients. Athletes trying to gain muscle mass know very well that their protein requirements are quite high, so they always try to eat properly with a predominance of protein.
Likewise, China has been concerned to propose recipes that provide at least 10% protein to people even if they want to follow a low-protein diet. For them, it is a priority to promote health based on a set of adequate proteins and amino acids.
Soy is the favorite protein in Chinese cuisine. It is a product that provides a lot of health and there are even studies that seek to affirm that it reduces cancer rates, especially breast cancer. Even so, over time, Chinese food has been adding new ways of including proteins that make gastronomy much more diverse. Some of them are:
Vegetal protein: Chinese food is high in protein
It comes from a combination of soy flour and a small portion of animal protein. Peanut flour can also be used, although it is a bit difficult to store. In China, you can find several types of flour that help promote vegetable protein, even so, we recommend you consult with your nutritionist which is the most suitable for you.
Animal Protein
This is the most common find in traditional recipes. Chinese food has a high amount of protein because many of its recipes involve meat, pork, and, above all, fish. The rational and effective use of meat helps promote a fairly successful Chinese diet that helps with the health of its habitants. Even animal protein-based flours such as fishmeal have been created that help increase the number of nutrients and amino acids that are required.
Unconventional Protein
China is always at the forefront of new inventions and in food, they are always looking to create new types of proteins. Some of them are based on animal powder, such as snails, yeast, and even other legumes that provide great nutrients. Meals in China are always high in protein because ingredients can be included in recipes very easily and even new products can be invented to improve the dish.
The Key is in Balance
Chinese food seeks a balance between all the nutrients. Most of the time it succeeds but on other occasions, it can be difficult so you must play with the foods and nutrients that are consumed throughout the day. Chinese food, by itself, is quite nutritious, although you can always prioritize minerals, proteins, or even just fats. There are recipes for all kinds!
Traditional Chinese philosophy seeks a balance in nutrients and wet and dry ingredients. Oils are also regulated and vegetables become the epicenter of several recipes depending on the area where the dish comes from.
Chinese food is balanced and you can even revise the ingredients to better increase the level of health that a single meal can give you. The balance lies in a good supply of protein, minerals, and a low amount of calories.
For those who are thinking of trying Chinese food and including some dishes in their diet, it's time to cheer up. Today, many recipes can be quite useful in improving your lifestyle and can provide you with many nutrients without problems.
The flavors are truly delicious and it is great to feel how your palate is getting to know new foods that may become your favorites. Chinese food is rich in protein, so it provides your body with many nutrients that improve your health and physical activity.
What ingredients of Chinese food give me more protein?
There is a wide variety of Chinese dishes but the ones that provide the most protein are those that include chicken with vegetables, beef, and especially fish. Dumplings are a simple source of protein, as are chicken breast with beans, shrimp Pei Wei, and broccoli meat. chicken lettuce wraps, soy sauces, and just about any other tofu dish… There are many dishes to try and it is time for you to be encouraged to do so.
Do you already know what dishes you will try next?
Read also: What Chinese Food is Low in Cholesterol?; What Chinese Food is best for Diabetics?; What Chinese Food is Vegan?