Chinese food chicken Cantonese style. Cuisines from different parts of the world have specific ingredients used to make them tasty. Some of these ingredients are unique to specific countries, while others are common in almost all parts of the world. One of the most common ingredients used in preparing dishes in different cuisines is chicken. People from different locations have their unique way of preparing chicken.
The Chinese food chicken Cantonese style is one of those ways of cooking a tasty chicken. Let us explore more about this type of chicken and how to prepare it.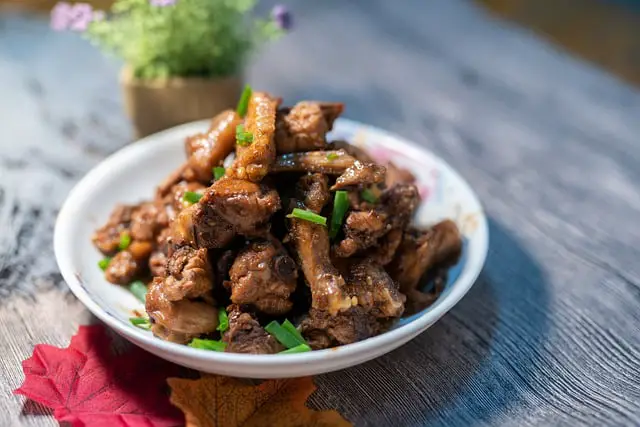 What is the Chinese chicken Cantonese style?
Cantone cuisine is one of the many cuisines in China. Therefore, the Chinese chicken Cantonese style refers to the chicken prepared using a recipe unique to the Cantonese cuisine. This chicken can be fried or roasted, depending on your preference. When ready, the chicken is crispy and is the traditional way of cooking chicken in China. It uses a wet marinating technique that includes specific Chinese spices. This type of chicken is reserved for special occasions. It is the perfect definition of soft, tender, crunchy, and well-done white meat.
Therefore, if you are looking for a chicken-cooking recipe that will give you soft and sweet chicken, the Cantonese chicken style is ideal. The recipe is simple to follow, and this means you can easily cook a chicken that any member of the family can eat.
The ingredients used to make the chicken are also available in different parts of the world. If the ingredients are available in your country, then you can easily make this tasty chicken and diversify your chicken preparation methods. The process does not take much of your time, and once you have marinated the chicken, you can prepare other dishes as you wait for it to dry. This is unlike other recipes for preparing chicken that might require your full attention until the chicken is fully cooked. 
How to prepare Cantonese chicken style
The preparation process will require you to have all the necessary ingredients. One of the unique things about Cantonese cuisines is their flavor. The flavor is created through the combination of the various ingredients required in cooking a particular meal. If you do not have all the necessary ingredients, your chicken might not be as tasty as the Cantonese-style chicken.
You should also not use substitute ingredients because they might change the flavor. The key to cooking a tasty Cantonese chicken is using the exact amount and type of ingredients explained below. However, if you want your chicken spicier, you can add the spice proportions according to your preferences. Just be warned that your chicken might taste different than you expected.
Your Chinese chicken Cantonese style can be fried or roasted.
Fried: Chinese food chicken Cantonese style
Ingredients
Chinese black mushrooms
2 water chestnuts
1 teaspoon cornstarch mixed with 3 tablespoons of water
1/4-pound Chinese cabbage (bok choy)
1/2 teaspoon sugar
1/2 chicken (This is about 1 1/2 pounds)
2 tablespoon dry sherry
1/4 cup sliced bamboo shoots
1 tablespoon dark soy sauce
4 slices ginger root (the size of a quarter)
1/2 cup water
4 cups peanut oil
1/4 teaspoon salt
Dash of pepper
Preparation
The first step is to soak the mushrooms in water for approximately 30 minutes. This will make them soft. After 30 minutes, remove the stems, drain the water then shred them. 
The next thing is to slice your cabbage diagonally at intervals of half an inch or your preferred size.
Chop your water chestnuts finely and then slice the bamboo shoots into small squares (approximately 1 inch). 
Dry your chicken with paper towels, then rub the sherry and soy sauce all over its skin. 
Cooking
Heat oil in a pan and fry your chicken for approximately 5 minutes on each side. Set it aside on paper towels to drain the excess oil. 
Heat another pan and add 2 tablespoons of cooking oil, salt, and ginger root. Add your vegetables and fry them for half a minute. Add the water, then cover the mix to cook for another 2 minutes. Finally, add the pepper, sugar, and cornstarch mixture and cook for another half a minute while stirring. 
Chop your chicken into small pieces and add the vegetables on top to serve. 
Cantonese style roasted chicken
One chicken, about 3-3.5 lb
Light soy sauce
1/2 tbsp sugar
1/2 tbsp chicken bouillon
1 1/2 tbsp salt
1/2 tbsp five-spice powder
2 green onions
1/2 tbsp sand ginger (galangal) powder
Ginger, 3 slices
2 star anise
Preparation
Combine the five-spice powder, salt, and ginger powder, and sugar in a bowl. 
Add two-third of the seasoning to the cavity of your paper-dried chicken and rub it well. Rub the remaining amount of seasoning on the entire skin of the chicken. Place it in the fridge and let it sit for approximately four hours.
Once your chicken has stayed in the fridge long enough, preheat your oven to 375F. 
Slice your finger and cut your washed green onions into small pieces. Crush the star anise pieces. Drain the excess liquid from your chicken and repeat the coating process. Begin with rubbing the mixture into the cavity then all over the skin. Rub a little soy sauce on the skin to give it a light brown color.
Place the chicken in your preferred baking material and roast it for approximately 55 minutes. You can also roast it until the thing reads 160F when using a quick read thermometer. This will ensure that every part of your chicken is fully cooked.
Serve the chicken after 30 minutes. 
If you plan on preparing chicken, it is good to explore recipes from different parts of the world. These recipes will offer you a diverse way of preparing your chicken, and therefore, you will not get bored by eating chicken prepared using a single method each time. It is also interesting to try new recipes, and therefore, why not give the Chinese food chicken Cantonese style a try? 
Read also: Chinese cuisine food; Cantonese vs Chinese food; Chinese Fried Rice, recipe; Low Sodium Asian Food; Is Asian Food Spicy?; Is Asian Food Gluten Free?; Healthiest Asian Cuisine; Delicious Food to Eat During Chinese New Year; Is Chinese Sauce Healthy?
2021-23
External resource: youtube video