Vietnamese new year:food, flower, called, traditions ,cake ,decoration, deserts ,clothes. Vietnamese New Year is also known as Tet Festival. It  is the most important festival of the year in Vietnam. The word Tet is actually an abbreviation for Tet Nguyen Dan, which is Vietnamese for an annual religious celebration on the first morning of the first day of their calendar.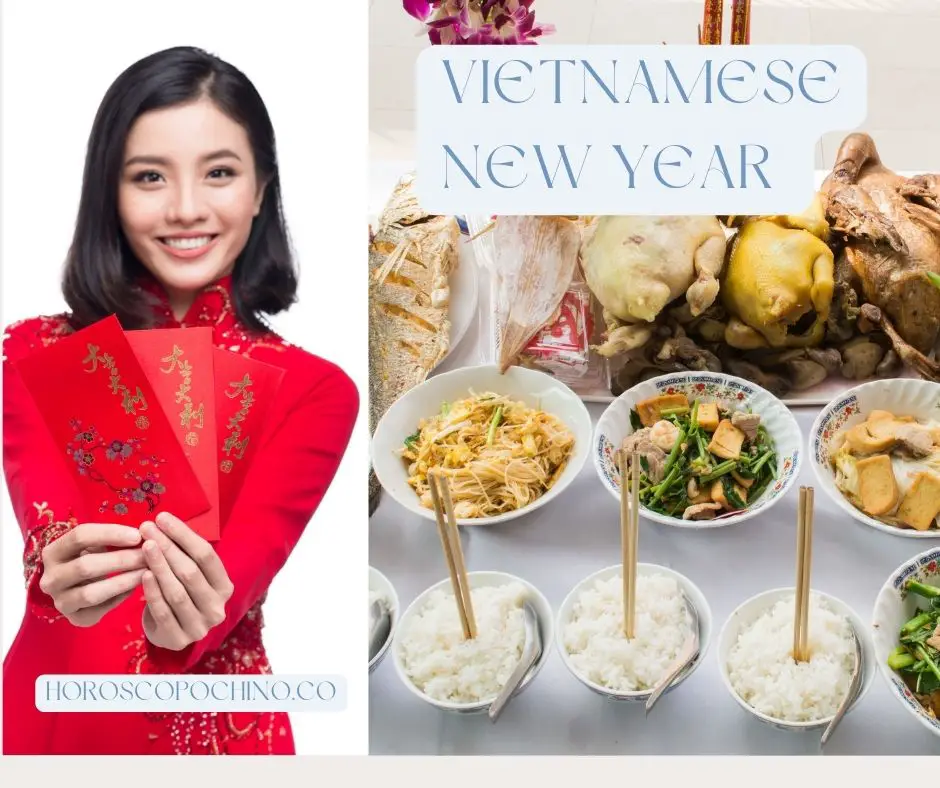 The beautiful thing about Vietnamese New Year is that it always celebrates love, as it is the start of spring, and the hopes for the New Year that it would be brighter and better for everyone.
This all began within the Ly Dynasty between 1009-1226 which has made several rituals on the Tet festival to celebrate the Lunar New Year with royal families. By putting in a dome to hope for the rains or building communal homes to crave for a year of many harvests, there was some way to start celebrating from the beginning of the day of the first month of the Vietnamese calendar to the period of the Georgian Calendar.
Throughout the centuries Tet has additionally been meant to eat. It is because Vietnamese lunar New Year's food has become necessary over the years. In Vietnamese tradition we see that you simply can't be hungry all year aside from 3 days of the Tet celebration. Dozens of delicious dishes and desserts are going to be ready on lunar New Year in Vietnam to feast on the ancestors yet as each friend.
Food
The New Year Tet festival is the day when family members gather, talk, and enjoy delicious Vietnamese food.
If you live or visit in Vietnam you would love to experience the Tet holidays, learning the etiquette, manners and traditional dishes is a good idea. 
Thit Kho Trung 
At the New Year festival, one important dish that people like to serve is a large pot of braised pork containing coconut juice with eggs which is named Thịt Kho trứng. 
The braised pork is soft but it is not mushy and the duck eggs are soaked with some special spices. This dish is not too complicated or difficult to make but very delicious in taste. It is suitable for the blessed day of the New Year.
Cu Kieu &Tom Kho 
There are several delicious dishes during the Vietnamese Tet festival, from delicious to simple and rustic dishes. One of the simple but important is Củ Kiệu's pickled scallion head. 
Onions are soaked in sweet but it can also be soaked in sour sauce and served with Tôm khô. This dish offers a crunchy, sweet, and sour taste, which can be eaten with other dishes.
Ga luoc
Boiled chicken is often prepared on every traditional day in Vietnam, especially on the Tet New Year. 
It spread fullness and well-being. Also, it's easy to make and gives both a sweet and juicy taste. 
Xoi gac 
According to Vietnamese culture, the red color symbolizes luck. So the red color in the Vietnamese New Year is always seen everywhere.
Because of this red color, people love to choose to eat Xôi gấc which is actually Gac sticky rice, a bright red color dish, bringing the luck and goodness that will come.
Flowers
Peach flower and kumquat tree are well-liked in the North, whereas the genus Ochna integerrima is most well-liked in the South for the Tet holidays. Another important feature is that the plants' characteristics differ: kumquat trees and Peach flowers flourish in cold climates, whereas the genus Ochna integerrima thrives best in tropical environments with heaps of sunshine.
There are quite a ton of various forms of flowers for Tet day, however, the foremost well-liked are listed below. Generally, red flowers are typically symbols of luck (Peach flower) whereas yellow (Yellow apricot) is the symbol of prosperity and protection against bad spirits.
Hoa Dao- Peach blossoms- peaceful and chic
In Northern Vietnam, peach blossoms take the middle stage. In Hanoi, the rosy-pink day is believed to be a portent of excellent fortune. the foremost brilliantly colored ones, the foremost well-liked. In Northern Vietnam, the peach trees blossom the pink petals earlier. As a result, Vietnamese individuals claim that the blooms have a "Braveheart" as a result of their bloom whereas different plants are dormant.
Hoa Mai- genus Ochna integerrima (Yellow apricot flower)- bright and shining
Unlike the north, the star of the "Tet show" in Southern Vietnam is termed Hoa Mai, a yellow flower or genus Ochna integerrima. Yellow day flowers with 2 or 3 yellow petals convey a wish for prosperity within the New Year. Hoa Mai could be a day angiosperm that represents luck, happiness, and joy. This sort of day flower blooms in early spring right before the day, once everything continues to be blank, that is why yellow apricot flowers are seen because of the embodiment of day.
Quat tree- cumquat- lucky and fruitful
The cumquat, which isn't notable for its flower, is very important in Vietnamese day customs. As the day falls in Spring, the cumquat produces beautiful very little fruits right before day; it's an embodiment of Tet because of its bright colors. Stimulant trees symbolize immediate wealth as their deep orange fruits symbolize fruitfulness.
Called
In Vietnam, the lunar New Year is termed Tet. The name of the day is Nguyen Dan. It means a feast for the first morning.
It is nearly always celebrated on the same date as in port and China. However, owing to the time distinction, after each twenty-five years just about, it falls a day earlier in Vietnam.
In some ways, the day is comparable to the Chinese New Year. It's a time for families to be together and share food. Individuals burn incense for ancestors, attend temples to wish permanent luck, and clean their homes before New Year's Day.
The first day of Tet, however, is often reserved for the extended family. In the present day, youngsters receive red envelopes with cash from their older relatives.
Traditions
New Year's Day is widely known with individuals in the streets creating loud noises, victimizing firecrackers, drums, bells, and gongs to bar evil spirits. There's a parade that takes place on this day. Parades happen everywhere in the cities; spirited events jam-packed with individuals sporting masks and lion dances.
Once the firecrackers and parades, families close for the biggest feast of traditional Vietnamese dishes.
Since the Vietnamese believe that the guests of a family know their fortune for the full year, they prefer to invite somebody of fine morality to be visiting the house to bring full blessings for them on New Year.
Tet is additionally thought of as a lucky time of year for gap a store or beginning a business.
Decorations
The decorations in Vietnam for the day are a number of the foremost impressive and elegant, that they boost the atmosphere. Throughout the day's competition, you will see folks shopping for peach blossom trees for their homes, kumquat trees, and orange trees. There'll be flowers seen in every place, as well as chrysanthemums and orchids, which you will see in massive displays throughout the cities and folks also will have in their homes in addition as in pots outside of their homes. 
Whereas the peach flowers and kumquat trees are well-liked in the north of Vietnam, the yellow Mai flower is well-liked within the central and south of the country. These fruits and trees symbolize fertility and fruitfulness that the family hopes for within the coming year ahead.
Cake
Vietnamese Sticky Rice Cake Banh Chung or Chung cake may be a must-have in the lunar New Year celebration of Vietnam. Despite being made up of straightforward ingredients, this traditional cake tastes howling and has a stunning culture that means a lot.
Desert
Vietnamese desserts stand out amongst the most delicious sweet dishes worldwide. As a result of the distinctive, out-of-the-box ingredients are used in getting ready. Those having an appetite alongside they will explore a range of delicacies would notice extreme enjoyment in attempting out the Che, a standard name for any pudding, sweet soup, and liquid in Vietnam, made up of urinary organ beans, mung beans, cassava, taro, tapioca, jelly and far a lot of.  The dishes are baked and steamed, prepared from bread and cake. Let us check out the list of Che, Banh, and other delicious desserts, which would take you to do away with your dieting.
1. Che Ba Mau 
2. Che Bap 
3. Che Troi Nuoc 
4. Che Chuoi  
5. Che Ba Ba 
Clothes
Clothing is a very important and integral part of any culture and is commonly noted once the culture is mentioned.
The traditional Vietnamese dress for men is already defined. It's an extended silk tunic with a traditional wanting comfortable collar and is buttoned down on the left aspect. The male tunic falls to the knees and is usually worn with loose pants beneath.
The Ao Dai, Vietnam's traditional dress, encompasses a female version also. Immensely kind of like its masculine counterpart, the feminine dress has one hanging distinction, this silk tunic flows all the way down to the ankles. The dress has 2 major varieties – a four-part selection, that consists of flaps within the front that girls shut up, and a five-part selection, that consists of a flap on the right to secure the dress.
Read also: Tibetan New Year; Traditional foods for New year's Eve?; Chinese New Year foods; Feng shui Chinese New Year; Islamic New Year, traditions, foods, wishes
Esta entrada también está disponible en:
English