Gastronomy of Italy, Italian cuisine. Italian gastronomy represents the most popular cuisine in the world. Any person has already tasted some specialty of these dishes in one of the different Italian restaurants worldwide.
Even Italian food lovers from all over the world travel to Italy to experience the original taste of Italian food, and have actually discovered that the secret of Italian gastronomy lies in its regional recipes, as each area of Italy has a variety of special dishes that are made with local ingredients not found anywhere else.
Characteristics of Italian cuisine
The gastronomy of Italy is synonymous with freshness, most of the typical dishes of this cuisine are usually pleasantly fresh and in every bite they show their refined taste.
For example, Italian breakfast is usually very light and consists of a cup of coffee or warm milk for children, with bread or rolls or cookies. 
Spaghetti is a staple food in the Italian diet. This food is served in various forms from ravioli (squares filled with meat, vegetables or cheese), to fettuccine (noodles in wide strips) which are accompanied by a wide selection of sauces: the famous bolognese (tomatoes, pork liver, veal, chicken) or other sauces based on mushrooms or salmon.
The typical meal in this region consists of 3 courses, but when there are guests or when eating in a restaurant, the ideal is to start with a starter followed by a pasta dish (meat or fish). The salad is served after the main course and finally the dessert that cannot be missed.
Italy is a very important wine producer and this drink is usually the one that accompanies the dishes of this region. Many foods that in any part of the world are considered Italian, such as pizza and spaghetti come from central Italy, while in the north of the country potatoes, fish, rice, sausages, various types of cheese and pork are the most common ingredients.
History and evolution of Italian gastronomy, Italian Cuisine
After the fall of the Roman Empire, Italian cuisine was established more than 2000 years ago and varied according to each region. Different culinary traditions and customs were born there. Each region was unique in terms of ingredients, according to what was collected locally, based its cuisine.
Northern Italy was known for its rice, meat and Tuscan polenta, while central Italy specialized in pizzas and pastas and featured hearty portions of mozzarella and provolone cheese.
On the other hand, the south was famous for using citrus fruits in its dishes, thanks to its warm climate. Each region had its own unique preparations.
The distinction of food customs in each of the regions changed slowly as the Italian economy grew after World War II. 
During this time a number of culinary practices were combined throughout the country, after people began to migrate from the countryside to the cities.
There, central Italians introduced pizza to their neighbors, while those from the north introduced risotto to the south. As borders began to fold, the West began to enjoy the flavors of Italian cuisine, making pasta and pizza the most beloved dishes of many people.
Typical dishes of Italian Cuisine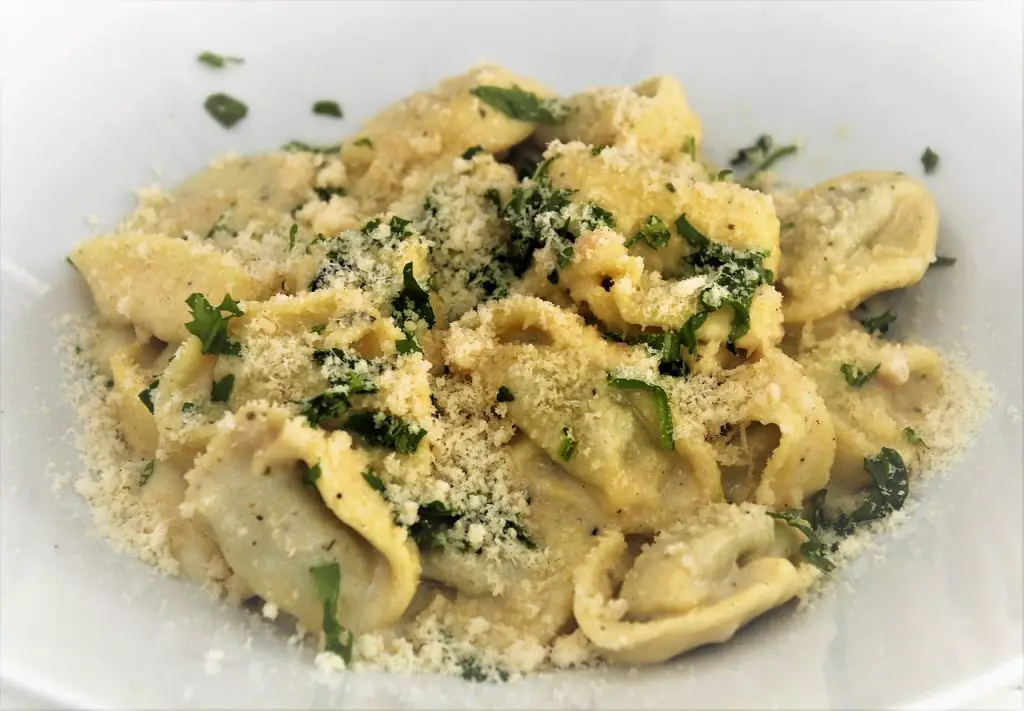 The different typical dishes of Italian gastronomy vary from one region to another, from appetizers, to main dishes, to Italian desserts, taking into account that all Italian cuisine follows the philosophy of simple recipes with fresh ingredients, among these dishes stand out:
Risotto Alla Milanese
It is a typical Sicilian dish, with rice grown in the Po Valley in northern Italy. To prepare this dish, Arborio or Carnaroli rice is sautéed in butter with onions, then it is simmered in white wine and saffron-flavored broth, and grated Parmesan cheese is added to serve.
Polenta
This dish is stone ground corn that is beaten with boiled water or broth in a copper pot until the mixture thickens. Polenta includes ingredients such as butter, black pepper and grated Parmesan cheese.
Lasagna
It is a typical dish of Naples, and it is covered with lasagna pasta with tomato sauce, ricotta cheese and meat, as well as mozzarella cheese and then baked in the oven.
Raviolis
It is a type of stuffed pasta, either square or round cut, containing a meat-based filling, ricotta cheese with herbs, which are served with sauce.
Ossobuco
It is a dish from Milan where veal legs are braised in a red wine reduction with vegetables. It is covered with a mixture of seasonings called gremolata (lemon zest, parsley and garlic). This dish is usually served with risotto alla Milanese.
Arancini
These are Sicilian rice balls in which cooked risotto is rolled and mixed with butter and Parmesan cheese. The balls are then dipped in flour, egg and breadcrumbs and fried in olive oil until golden brown.
Ribollita
It is a Tuscan stew that was created when servants cleaned the leftovers from their masters' dishes and cooked them in boiling water. Ribollita means boiled and is made with cannellini beans, lots of vegetables and is thickened with stale bread.
Spaghetti Alla Carbonara
This is a Roman dish consisting of spaghetti cooked in a hot pan with pork cheeks or pancetta and a mixture of Parmesan cheese, egg and black pepper.
Pizza napolitana
It is a peasant dish from Naples that was originally a flatbread with tomatoes. It was originally called pizza Marguerita. It is a dough topped with tomatoes, olive oil, mozzarella and basil.
Caprese Salad
It is a very popular summer salad where some tomato slices are topped with mozzarella cheese and basil leaves and a splash of balsamic vinegar and olive oil is added.
Gnocchi
They are wavy dumplings made of mashed potatoes mixed with whole wheat flour. There are many varieties of Italian gnocchi and each one is made with different ingredients. 
The starchy variety originates from the Lombardy region of northern Italy and is the most common. It is sometimes mixed with sage and butter.
Parmigiana
It is the popular dish of eggplant parmesan, consisting of eggplant slices that are breaded and fried in olive oil, then covered with tomato sauce, mozzarella cheese and then baked.
Swordfish
Sicily is known for its variety of seafood and fish, such is the case of Sicilian swordfish. It is a fillet which is cooked in olive oil with capers, wine and dried tomatoes.
Tiramisu
It is the Italian dessert par excellence, which is made with sponge cake soaked in espresso coffee and rum, then layered with a whipped mixture of eggs, sugar, mascarpone cheese and finally covered with cocoa.
Traditional Italian cuisine
This gastronomy is an integral part of the Mediterranean diet, which is also part of UNESCO's Intangible Cultural Heritage of Humanity. For the people of Italy, cooking is a seductive art.
They are in constant search of a balance that highlights the flavor of each food and culinary recipe. It is a simple gastronomy, but very delicious, it is a culture that originates thanks to the family heritage.
The Italian menu usually consists of a feast of varied foods. Appetizers include drinks such as cocktails and wines and stuzzichini (charcuterie). 
Then there are fish-based appetizers, fried squid, marinated octopus, fried zucchini flowers, spinach pie, ham in chiffon, etc. Other hors d'oeuvres can be marinated vegetables, bruschettas or croquettes and salads.
Among the first typical Italian dishes are those which are gluten-based in all their forms, including spaghetti, stuffed lasagna, tagliatelle, tortellini, cannelloni, etc. In addition, gnocchi, risottos, minestrone soups.
As for the second course, they have essential ingredients such as fish or meat served with cooked vegetables and salad as garnish.
Finally, the desserts consist of cakes or fruits and as a digestive are served amaro liqueur, grappa or limoncello or a delicious espresso.
Ingredients of Italian cuisine
The ingredients used in Italian cuisine are varied, but the following are the most essential and the ones used in most of the dishes of this emblematic cuisine:
Olive oil 
Balsamic vinegar
Garlic 
Pasta 
Rice for risotto
Fresh tomatoes
Oregano
Capers
Porcini mushrooms
Basil
Parmesan cheese
Ricotta
Mozzarella cheese
Red wine 
White wine 
Read also: Chinese cuisine , Asian Cuisine ; What is gastronomy?