Astrology 2023 Predictions, Forecast: Aries, Taurus, Gemini, Cancer, Leo, virgo, Scorpio, Saggitarius, Capricorn, Aquarius, Pisces, zodiac.
Astrology predictions describe career, finances, love, romance, family, education, travel, and well-being. It's not necessary to wait! By gaining insight into your own future, and the futures of your loved ones, you can gain a better understanding of them.
Traditionally, there is a common understanding that the 12 zodiac signs influence the lives of everyone around them in some way. Varied planets have different effects on people's lives. The Horoscope 2023 foretells events that are likely to occur in their life in the future. We may not be able to change our fate, but we can prepare for the worst-case scenario.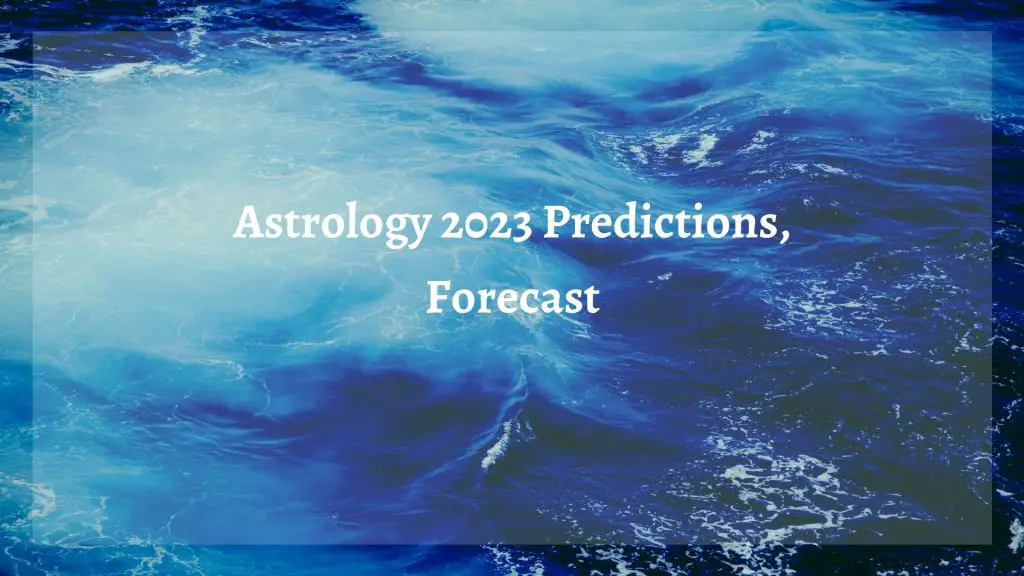 Aries 2023
Aries people will be able to renew inactive initiatives in the year 2023. They'll be finished without any big setbacks. Money will flow freely, and you will have enough to invest in real estate and save.
The beginning of the year 2023 will be favorable for creating romantic relationships. It is vital to avoid all forms of arguments between partners. Throughout the year, social activities will be emphasized. Because of your commitments, you will have no time to think about your health.
Taurus 2023
Professionals may have issues at work, which will take additional effort to resolve. However, the year closes on a high note, with promotions and raises in pay. Instead of making a lovely present, the year will be spent thinking about a bright future.
Jupiter will enhance Taurus' financial position during the year 2023. It won't be possible for you to spend enough time with your family because of your commitments. A few issues with health will arise. Proper exercise, combined with adequate relaxation, will aid in the maintenance of your health.
Gemini 2023
You will be supported in your endeavors by Jupiter and Mars during the first half of the year. Saturn infuses activities with a sense of sobriety. In the year 2023, Gemini personalities wish to make significant changes in their lives. This could entail a shift in employment or location, as well as a shift in religious beliefs.
Venus is the planet of love and peace. However, in our transactions with your partners, you may need to be flexible. This year's energy levels will be low. As a result, you should focus on gentler exercises and relaxation. Journeys that are tied to a profession are indicated.
Cancer 2023
Jupiter and Saturn's influence will have a profound effect on your lifestyle in the year 2023. The era after March 2023 is an exciting time for professionals. Cancers will receive promotions and a career change to a more rewarding position. Financially, you'll have a solid year, and you should entrust your company and financial decisions to specialists.
Planetary influences have a positive impact on committed love relationships. Families will enjoy each other's company throughout the year. Jupiter and Mars will assist you in completing projects after May. If you want to thrive in life this year, trust your intuition.
Leo 2023
This year, Jupiter will fuel Leo's ambitions. However, you must exercise caution in controlling your desires. You wish to improve your career possibilities by studying in a different field abroad. On the financial front, you must set spending limits and save for a rainy day.
After April, love will grow, and you and your spouse may embark on a romantic getaway at the end of the year. Until May, Jupiter will assist you in achieving success in your endeavors. Following that, you must temper your aspirations. Relaxation can help you preserve your health by easing your tensions.
Virgo 2023
This year, Jupiter will assist you in accomplishing great things in your life, and you will be able to flourish beyond your wildest dreams. Virgos are idealistic in love relationships, therefore it's important to bring a sense of realism to the table. This year, love will play a crucial role in your life. You will be able to realize your romantic and love dreams.
You will be able to save a significant amount of money at the start of the year. After April, the family situation will be lovely. Even if you are not motivated to exercise and keep in shape, it is critical to maintain your health in order to increase your self-assurance.
Libra 2023
For the Libra zodiac sign, 2023 will be a year of relationships and social activities. It is critical to maintain your uniqueness and avoid being exploited by others. Your contacts will be crucial to your success throughout the year.
Between June and October 2023, singles will form love alliances. During the second quarter of the year, Mars will push you to focus all of your efforts on projects that will benefit from the help of friends. This year, you might be plagued by a sense of doom and gloom. It is critical to socialize as much as possible.
Scorpio 2023
A good year is in store for those born under the Scorpio sun sign in 2023 when it comes to their career and lifestyle. They want to make more progress in their life. They may also change jobs or places of employment as a result of this process. Jupiter will assist finances in the second half of the year by bringing in a huge amount of cash.
Some family members have a bad attitude, which ruins the family atmosphere. Jupiter will assist you in finding new jobs by providing you with contacts after March 2023. By adhering to a regular workout and food regimen, one's health can be transformed into something spectacular.
Sagittarius 2023
It is recommended that Sagittarius professionals prepare for career changes in 2023. Your responsibilities may change as a result of additional obligations. This will be a financially beneficial season for you, and you will make large ticket purchases.
This year, your family will be a strong supporter of your accomplishments, and it will expect commitment and love in return. From June to October is a good time to start a new love connection. Your health will benefit from relaxation and simple exercise.
Capricorn 2023
Those who work hard and take sensible risks will be successful in life in 2023, according to the yearly horoscope. You can advance in your profession through hard work and a positive attitude. It is vital to maintain social interactions with your coworkers and bosses.
Capricorn's love life will be peaceful. In the household, harmony will reign supreme. Human touch will assist you in achieving your business goals. Relaxation will assist you in maintaining a pleasant attitude and enjoying life with your family and friends.
Aquarius 2023
People with Aquarius signs will discover their true personalities in 2023, providing them with more confidence in handling life's challenges. The financial position will drastically improve. You will have money left over to save and invest. This year, you'll be busy completing a variety of initiatives.
This year, professionals will make significant advancement in their careers. The atmosphere in the family will be cheerful and happy. This is an excellent time to get pregnant. You'll have to deal with a few minor health difficulties. Well-being can be improved by combining a good workout routine with rest. You will travel for business reasons.
Pisces 2023
Your relationship with contacts will rekindle after a few years, according to the 2023 Pisces zodiac predictions. Yourself-assurance will skyrocket, and you'll be more willing to try new things. Your professional life will be challenging during the Mercury Retrograde of 2023, but you will overcome these obstacles with grace and poise.
In terms of money, you've had a good year. After April, family connections will improve. With low energy levels, your health will be shaky, and you'll need to relax enough.
Read also:2023 Year of the Rabbit; Horoscope 2023; Feng Shui 2023 colors tips